Sidebar
Dryden Aqua Healthy Swim AFM Grade #3 Glass Filter Media 55 LB Bag
Call For Pricing 800-464-7762
Brand

SKU:

10-1586

Weight:

55.00 LBS
Healthy Swim AFM Grade #3
A bio-resistant Activated Filter Media that uses activated, recycled green and amber glass that greatly reduces airborne chloramines.
Grade #1 would replace #20 Sand in a sand filter. Grade #3 would replace gravel in a sand filter.
What is AFM®?
AFM® (Activated Filter Media) is an activated and therefore bio-resistant filter media made from green and brown glass.
AFM® filters at least twice as good as sand

AFM® is bio-resistant: Prevents bacterial growth.

AFM® is a sustainable product made of recycled glass.
Your benefits at a glance
Crystal clear water

Lower chlorine consuption

Less toxic disinfection by-products; less "chlorine smell" in the air

Reduces the risk of infections by bacteria and parasites like Legionella, Pseudomonas and Cryptosporidium to an absolute minimum

Same performance for many years
AFM® - The best filtration requires the best filter media!
AFM® Activated Filter Media is a direct replacement for sand, doubling the performance of sand filters without the need of additional investments in infrastructure. AFM® resists biofouling, biocoagulation and transient wormhole channeling of unfiltered water and never needs to be recharged or replaced.
AFM® is a highly engineered product manufactured from a specific glass type, processed to obtain the optimum particle size and shape. It is then exposed to a 3-step activation process to increase its surface area by up to 300 times for superior mechanical and electro-static filtration performance.
The activated surface of AFM® is self-sterilizing which prevents bacteria mud-balling, coagulation and channeling of unfiltered water through the filter bed. Activation increases the surface area by up to 300 times for catalysis and adsorption reactions. Similar to activated carbon, the surface nano-structure adsorbs pollutants from the water but unlike carbon, AFM®is recharged by just back-washing with water.
AFM® is not glass sand!
Difference to other glass media on the market:
Activation - During the production process the raw AFM® goes through a three-step mechanical and chemical Activation Process. The Activation is the reason for it's bio-resistance and it's amazing filter efficiancy.

Raw Material - We use only green and brown glass. The metal oxides that are in the glass and gives the colour are the reason for the negative charge. This charge is increased during the activation.

Production - Dryden Aqua is a manufacturer of filter media made of glass - other competitors are glass recycling companies that sell their "waste". Our production is propably the most sophisticated glass processing factory in the world. We optimised every part to produce the best material available, with the best shape and size for our applications. We ensure that our product has no sharp edges that can injure you or damage the filter.

Efficiency - Due to the mentioned points we are able to produce a material that filters more than 4 times smaller particels than sand or any competitive product. This is proven by the independent laboratory IFTS in France:
For a high performance, healthy, ecological and economical pool water treatment
Proven in more than 200'000 pools around the world!
Where you can use AFM®?
You can use AFM®, without any change in the installation, ...
...in every filter that is running with Sand or Glassand

...for natural pools

...for salt water pools

...with every oxidation method

...at all temperatures
Dryden DAISY®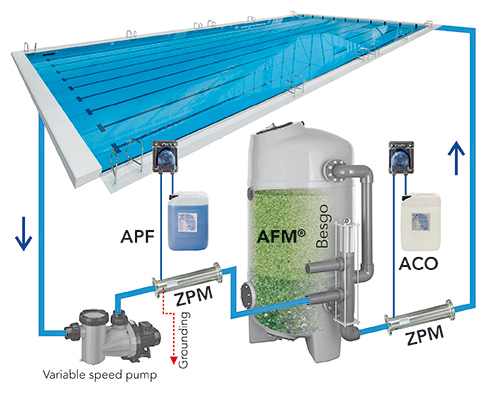 Additional Information