Sidebar
Diversified Waterscapes F-10 Foamkill Gallon
Brand

SKU:

10-1044

UPC:

10-1044

Weight:

8.00 LBS

Shipping:

Calculated at Checkout
Diversified Waterscapes F-10 Foamkill Gallon *Available in Quart, Gallon & 5 Gallon Size*
A special, Non-Oily blend of silicone compounds. Designed to easily disperse unwanted foam & surface scum from lakes, Ponds & Fountains
Application rate 1 Ounce treats 400ft2 (20FT x 20FT) A cupful treats 500 Gallons.
The Benefits of The Formula F-10: Eliminates foam and is highly effective in retarding foam formation. Developed especially for ornamental lakes, streams, ponds, & Fountains. Ingredients are completely safe & Compatible with all water treatments products.
Non-Toxic & Environmentally Safe. This Formula will not harm fish, plants nor Wildlife. May be injected to prevent re occurrence.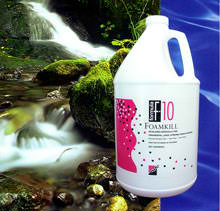 Additional Information